I've begun a bit of a project now that the massive new brew kettle is fully armed and operational.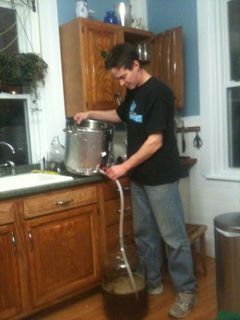 I've got Extreme Brewing by Sam Calagione of Dogfish Head Brewery. I'm going to make an effort to brew each of the recipes from the book at least once. This will likely take a few years – but I'm in no particular hurry. It's quite strong, perhaps 8% ABV – and is taking its own sweet time about carbonating. Still – it's a big and well balanced beer – and I think that most anyone who likes beer of any sort will like this one. Its codename is "brownout," for the brown ale, the rolling power outages of summer, and also for the vague feeling of "woah," that one might get from jumping straight in on 8% ABV beers. Not a full on blackout mind you – but still worth noticing.
Down in the basement, I have my first real lager. It's the Peppercorn Rye Bock. The flaked rye was a massive pain to work with – yeilding a sort of gelatinous mass after extraction. The beer itself, however, smells great. It's perking along at 52 degrees on the floor of the basement. I expect to have to let it ferment in primary for another week and a half. After that I'll have to decide whether to do a secondary – or just bottle it. I'm leaning towards just bottling it – assuming that I can get a clean siphon. It's got a lot of sludge on the bottom of the carboy.
I'm also taking the opportunity to re-visit my whole brewing technique:
I've already given up on fancy bottled water for my beer. I used to use only Poland Springs. Now, I use the city tap water. That's actually the source of my imprimatur: "Dorchester's Best." It's the tap water.
With the upgraded kettle, I can do "full" boils. This just means that I boil four and a half to five gallons of wort for a five gallon recipe. My old pot held only five gallons, so a rolling five gallon boil in that thing would have been a sticky mess in no time.
The new pot has a built in thermometer, which means that I can finally ditch the floating one. This is an unconditional win – since I never really enjoyed the burns on my fingers from grabbing the damn thing out of the pot anyway.
I've been using a small grain mill attachment for the kitchen aid mixer. It works okay, but I have to sort of hack it – since the thing is designed to produce flour, not cracked grain.
I have a large metal "tea ball" that works wonderfully for whole leaf hops.
I still use the copper immersion chiller rather than waiting literally forever for a batch to cool down to pitching temperature.